09/20/2019
2019 CASA Awards for ASC Excellence
Monterey Peninsula Surgery Centers Ryan Ranch awarded ASC of the Year
On Thursday, September 5, 2019, CASA revealed the recipients for the 2019 CASA Award for ASC Excellence and the CASA ASC of the Year. The awards were established to acknowledge that California ASCs are drivers of excellent healthcare, providing opportunities and solutions for healthcare reform. In 2016, the CASA Board established the CASA Award for ASC Excellence as a mechanism to honor ASCs who strive to "rise to the top." The program is built around 5 pillar categories acknowledging a CASA member facility who exemplifies best practices in the surgery center industry, plus actively promotes and advocates for ASC excellence and inclusion in the healthcare delivery system.
All of the centers recognized demonstrated significant involvements in the award pillar areas of:
Membership – Facility supports the ASC industry through active engagement in professional organizations.
Advocacy – Facility drives ASC-related legislation at both the Federal and State level through education, action and financial contributions.
Quality Metrics – Facility drives transparency and clinical quality in the ASC through facility benchmarking and public reporting and superior performance of important metrics including outcomes, pricing, and patient satisfaction.
Education – Facility ensures clinical best practices, operational efficiency, and regulatory compliance through ongoing patient, staff and physician education.
Community Involvement – Facility is actively engaged in educating the public regarding the benefits of ASCs and demonstrating leadership in improving the general health of their community.
The recipients submitted applications with supporting documentation demonstrating their commitment and involvements across the pillar categories. The applications were reviewed by a select, unbiased committee, who chose 4 of the candidates to receive the award. From these outstanding ASCs, one was selected to receive the distinguished award of CASA ASC of the Year. The winners were announced at the annual CASA Business Meeting, during the CASA Conference, September 5, 2019.
2019 CASA Award for ASC Excellence Recipients
Monterey Peninsula Surgery Center – Ryan Ranch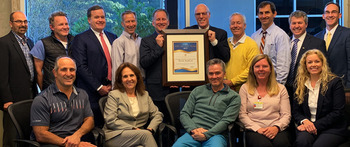 Monterey Peninsula Surgery Center- Ryan Ranch was established in 2007. This facility sets a high standard in demonstrating leadership and providing quality care in the ASC industry. They are extremely active in advocacy, hosting tours, both on the state and federal level. They have hosted political fundraisers providing education on the ASC industry and have advocated in Washington, DC. MPSC Ryan Ranch is forward-thinking and has adopted an opioid-sparing initiative and implemented this program for their entire medical staff. They are active in numerous quality and outcomes studies including total joint registries, as well as a pilot program initiated by the Ambulatory Surgery Center Association (ASCA) focused on surgical outcome research tracking total knee, total hip and shoulder replacements. They are strong supporters of their staff pursuing certification and additional education. The center's management and staff are incredibly active in their community not only through charity care but through numerous education programs.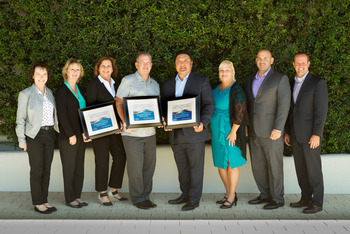 Surgery Center Palo Alto
Surgery Center Palo Alto is a state-of-the-art multi-specialty center with 4 operating rooms, and 3 procedure rooms located in the heart of the Silicon Valley serving over 11,700 patients last year. The center is active in advocacy by conducting a legislative tour and participating in the advocacy fund. They have been acknowledged through numerous quality and outcomes studies including being recognized from the Endoscopy Unit Recognition Program by the American Society for Gastrointestinal Endoscopy for promoting quality in endoscopy and surpassing the threshold of adenoma detection rate for every GI physician. The center was also recognized for their outstanding work in process improvement for specimen handling. Surgery Center Palo Alto is active with the local Boys and Girls Club and opened their center for career day. They participated in the Gift of Surgery day and provided 18 cases for patients in need of surgery and GI procedures.
Sutter Alhambra Surgery Center
Sutter Alhambra Surgery Center is an outpatient, 23 hour overnight stay facility concentrating on all outpatient procedures. It was established in 1992, and has become a premier destination for orthopedic surgery in the greater Sacramento community. The center and its leadership are very active in the legislative process, participating in the CASA Advocacy Fund and hosting several legislative tours and member events. They actively pursue excellence through quality benchmarks and education. They have long been involved with community charities and projects. They participated in "Carry the Load", which is a non-profit dedicated to providing active, meaningful ways to honor and celebrate the sacrifices made by the military and their families. Their administrator, Andrew Kim, received an award by the United States Office of the Secretary of Defense for supporting and contributing the employment of military personnel at the Center. In 2019, the center also received the "Above and Beyond Award", recognizing employers at the local level who have exceeded the legal requirements in employing the military.
Surgery Center San Carlos
Surgery Center San Carlos is a multi-specialty surgery center located in the Bay Area. They are extremely strong in the area of quality metrics, participating in benchmarking and developing many in-depth quality studies around same-day cancellations, rapid response, reducing defects in therapeutic GI consents and many more. Surgery Center San Carlos was the recipient of the Women's Choice award for Best ASC 2019. They encourage their staff with strong participation in ASC education, and a significant number of their staff are certified across many areas. They developed a video in several languages addressing "Save Lives, Wash your Hands". Surgery Center San Carlos is involved in the community by participating in the Gift of Surgery Program to provide 10 free surgical and endoscopy procedures to un-insured patients with the greatest need and the least access to medical care. The staff is extremely active in giving to their community through a wide variety of volunteer activities.