Complete Story

02/29/2016
MBC Tours Fort Sutter Surgery Center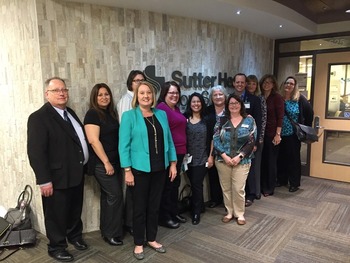 On Thursday, February 25, 2016, Fort Sutter Surgery Center opened its doors to the staff of the Medical Board of California (MBC). MBC Executive Director, Kim Kirchmeyer; MBC Chief of Legislation, Jennifer Simoes; MBC Staff Council, Kerrie Webb; along with MBC staff overseeing ASCs were in attendance. It was a great opportunity for the MBC staff to see firsthand the operations of an ASC, including the peer review and adverse event reporting process.
Brad Heaton, Regional Director of Operations, Sutter Surgery Center Division, brought his team together to demonstrate the patient experience from prior to surgery through discharge from the ASC. The entire MBC crew of 9, donned attire and toured behind the red line.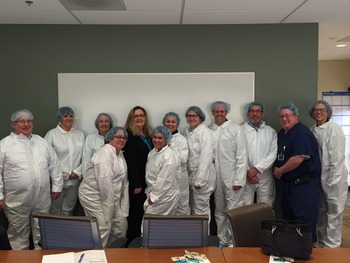 Following the tour Rita Bowen, Vice President of Clinical Operations, Sutter Surgery Center Division, gave a detailed power point on the process the ASC utilizes for credentialing, peer review, and reporting of adverse events. This led to a valuable discussion on the challenges ASCs and the MBC face. Rita Bowen sums up the interaction with, "I'm impressed with the MBC staff's open- mindedness, willingness and desire to learn about ASCs."
Developing working relationships with the MBC and our other regulators are crucial to our industry. It is important that they see first-hand, the excellent care ASCs provide for their communities. MBC Executive Director, Kim Kirchmeyer highlighted that, "The tour was very helpful in educating the Board's staff in the functions and procedures in an ASC. We are very appreciative for this opportunity."
---