Complete Story

06/11/2018
CASA Members Take ASC Message to DC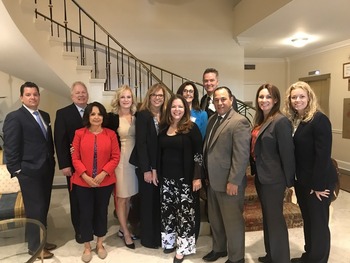 Bryce Docherty, Trey Parsons, Pat Minero, Tersa Lech, Beth LaBouyer, Lisa Cooper, Deb Miller, Dr. Michael Stuntz, Walter Topp, Tara Vail, Carrie Millsap
A group of thirteen ASC representatives and members of CASA participated in the Ambulatory Surgery Center Association (ASCA) Washington, D.C. Fly-In, last week. The CASA team was able to take the ASC message to 23 California legislators. In addition to educating on the benefit of ASCs, the group was encouraging our lawmakers to co-sponsor the Ambulatory Surgical Center Quality and Access Act of 2017 (HR 1838) and Removing Barriers to Colorectal Cancer Screening Act of 2017 (HR 1017).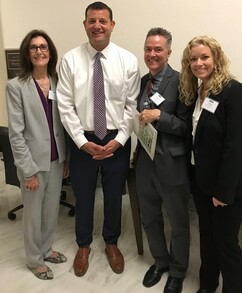 Deb Miller, Representative Valadeo, Dr. Michael Stuntz, Carrie Millsap
The Ambulatory Surgical Center Quality and Access Act of 2017 (H.R. 1838) would move the ASC payment update from the Consumer Price Index for All Urban Consumers (CPI-U) to the hospital market basket system, add an ASC representative to the Advisory Panel on Hospital Outpatient Payment and create more transparency within the Medicare procedure approval and quality reporting processes. This bill would ensure the Medicare system and its beneficiaries continue to have access to the high quality, low-cost services ASCs provide.
Removing Barriers to Colorectal Cancer Screening Act of 2017 (H.R. 1017 / S. 479) would eliminate the unexpected costs for Medicare beneficiaries when a polyp is discovered and removed. Under current law, screening colonoscopies are covered as a preventive benefit, and if nothing is found during the procedures, copays are waived. But, if a polyp is found and removed during a screening colonoscopy, the colonoscopy must be coded as a therapeutic procedure and copays apply. This bill would attain higher screening rates and reduce the incidence of colorectal cancer by eliminating the financial barriers to obtaining preventive care.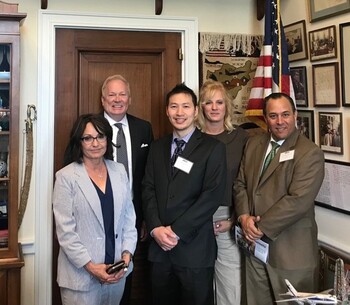 Pat Minero, Trey Parsons, Dr. Anthony Tran, Tersa Lech, Walter Topp
Fly-in participant, Walter Topp, Administrator, Fountain Valley Surgery Center summarizes the experience, "I would encourage all of my ASC colleagues to participate in a Fly-In event at least once in their career. The professionals at ASCA and with our California association – CASA - make sure to have every resource in place and meetings arranged with our elected representatives. The Fly-In allows the chance for those of us on the front lines of the healthcare system to communicate our needs directly to those that can make positive changes for our entire industry. The opportunity to participate in the policy-making process is a unique and rewarding experience, and I predict once you've done it, you'll look forward to going back again and again."
We urge all our CASA members to be active and contact their representative regarding supporting ASCs. Further information and links to contact your members of Congress can be found at the following links.
ASC Quality and Access Act of 2017 (H.R. 1838)
Removing Barriers to Colorectal Cancer Screening Act of 2017 (H.R. 1017/S. 479)
Make sure you are aware of the issues affecting ASCs, the efforts being made on behalf of the ASC industry and the nuances that affect the strategy moving forward. CASA Legislative Advocate Bryce Docherty and Ambulatory Surgery Center Association (ASCA), CEO Bill Prentice, will be updating the CASA membership at the CASA Conference, September 5-7, 2018. Make sure you take advantage of this important information and opportunity.
CASA 2018 Annual Conference and Exhibits
The CASA 2018 Annual Conference & Exhibits will be held September 5-7, 2018, at the Hyatt Regency Resort & Spa in Huntington Beach, CA. This is a must-attend meeting for all of those in the California ASC market as we address the most current topics affecting California ASCs.
Wednesday Kickoff
ASC Safety and Quality will be a key theme of this year's conference. The CASA Conference kicks off Wednesday afternoon with "Am I Running an ASC or a Nuclear Power Plant? High-Reliability Principles Come to Health Care." As more and more US procedural healthcare is being rendered in ASCs, using increasingly complex technologies, it becomes clear why the principles and process that have served similarly high-risk fields of endeavor well—commercial airlines, nuclear power, naval avionics—are being applied to our work. The related principles of reliability and resilience will be discussed as they relate to optimizing patient and staff safety, joy of work, patient satisfaction, and operational effectiveness.
We continue Wednesday's topic of "Every ½ Second Counts" with Ridley Barron. Carrying the power of personal experience, Ridley approaches the subject of Patient Safety as few can. His powerful message of hope, healing, and forgiveness empowers patients, families, clinicians and those impacted by adverse medical events. It leaves a lasting impression and offers challenging improvements in patient safety. The power of his story is evident by the number of people who have said it has changed their life forever.
The program continues Thursday and Friday with additional key General Session topics including, Legislative and Regulatory Updates, a discussion on the impact of driving surgical cases to the ASC environment, transparency and patient outcomes in the ASC industry and the smaller breakout sessions diving deeper in the subjects of Finance, Human Resources, Clinical and Quality oversight.
Check out the entire program and register at the following links:
Make sure to book your room at the conference host site, Hyatt Regency Huntington Beach Resort & Spa. Shimmering views of the Pacific and luxurious amenities abound at the oceanfront Hyatt Regency Huntington Beach Resort & Spa. Innovative, Spanish-inspired architecture sets the scene for a memorable retreat at this resort hotel.
For room reservations call 1-888-421-1442 and identify yourself as an attendee of the California Ambulatory Surgery Association Annual Conference & Exhibits or click on the following link Hotel Reservations.
---