Complete Story

06/29/2022
CASA Veterans Committee Working to Help CASA Members Meet the Staffing Crisis
One of the goals of the newly formed CASA Veterans Committee is to provide pathways for veterans to facilitate transitions to the ASC industry. The committee is currently busy making connections and developing resources for our ASC members to reach out to the veteran community. Matt Luke, Regional Vice President with United Surgical Partners International (USPI) will be highlighting these efforts in a general session presentation at the CASA Annual Conference titled "Mission Bend the Trend." This session will address the labor challenge and how ASC leaders will need to take an innovative and ownership approach to successfully engage and recruit our workforce, including unique opportunities to incorporate transitioning veterans into your ASC through "Hiring Our Heroes." Make sure you don't miss this important discussion along with the many other opportunities at the annual conference.
CASA Conference Registration
CASA Conference Full Program
The "Hiring Our Heroes Organization" is an opportunity for ASCs to investigate and recruit potential staff. There are several ways to get involved with their programs.
Hiring Events
Hiring Our Heroes offers industry-focused and multi-industry virtual hiring events, as well as in-person Career Summits on military installations across the U.S. and overseas. All events are free for both job seekers and employers, but exhibitor space may be limited in some venues. You can view their calendar of events and request booth space for their hiring events at HiringOurHeroes.org/events.
Fellowship Programs
Hiring Our Heroes offers several fellowship programs for transitioning service members, military spouses, and caregivers to wounded warriors. Participating as a host company is free of charge for employers and gives you the opportunity to see if the fellow is a fit for your organization. Fellowships are 12 weeks for qualified transitioning service members (approved DoD Skillbridge program). For military spouses and caregivers, they offer a 6-week, paid fellowship. The applied technology Salesforce fellowship is 12 weeks. More information here: https://www.hiringourheroes.org/employers/hosting-a-fellow/
Military Spouse Program
The financial stability of military families is challenged by continuing high rates of spouse un- or underemployment. Hiring Our Heroes offers career development, networking, and hiring events for military spouses and is eager to work with employers to incorporate military spouses into their workforce through their Discover The Talent campaign. To learn more and engage with the Military Spouse team: www.hiringourheroes.org/discover-the-talent
For general guidance on how to incorporate veterans into your workforce, check out this free resource: https://www.vetemployerroadmap.org/
Veteran Spotlight
Jessie Monnier
Chief Operating Officer – Ambulatory Surgery Centers, Providence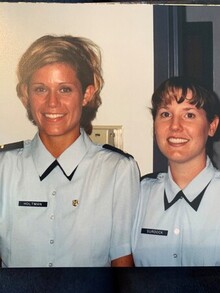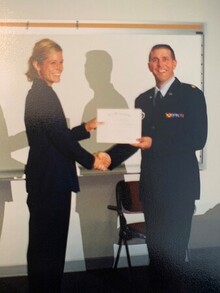 What was your role in the Military?
I started out as a nurse in the Medical Intensive Care Unit at Travis Air Force Base then migrated to Surgical ICU and later to the Post Anesthesia Care Unit.
Why did you choose the ASC industry?
I appreciated the fast pace, the family-like atmosphere between physician and staff, and the very predictable schedule. Caring for relatively healthy patients was a bonus.
What military experience is useful for ASCs?
I can think of many areas where my military experience has been beneficial in the ASC space. My clinical background in the civilian sector prior to joining the Air Force was a plus. Thinking 'outside the box' for problem resolution and change management were also beneficial. Military personnel with supply chain experience could also be successful in the ASC space as well as those who serve in leadership positions and have a general understanding of healthcare.
What was the coolest thing you ever did?
The most meaningful experience of my military career was being deployed to Germany in support of Operations Enduring and Iraqi Freedom. I served as an ICU nurse at Landstuhl Regional Medical Center (LRMC) caring for our wounded soldiers injured on the frontlines in Iraq. They were transferred via Critical Care Air Transport to LRMC, and we would care for them until they were stable enough to be sent back home. I was so honored to care for the brave men and women who serve to preserve our freedoms.
Want to Be a Part of The CASA Veterans Community?
The CASA Veterans Committee is focused on veteran recognition, transitions, recruitment, and resources. Are you a veteran and interested in serving on this CASA committee? Would you like to share your stories and/or be highlighted in a future veteran's newsletter issue? If so, please reach out to CASA Executive Director Beth Labouyer @ blabouyer@casurgery.org.
---