Complete Story

11/06/2023
Opportunities to Honor Veterans in Your ASC
Veteran Spotlight - Kim Russell
Veteran's Day is a time to celebrate the men and women who have served in the U.S. military and recognize their unique experience that comes with that. CASA Executive Director Beth LaBouyer, along with CASA Board Member Stephanie McIntosh, and Scripps Encinitas Surgery Center Administrator Alisa Inahara, participated in a recent career fair for veterans at Camp Pendleton on October 5th. It was a great opportunity to highlight the many roles and opportunities within ASCs and express to veterans and active military that their skills and capabilities would be a great fit for the ASC workforce. They were successful in obtaining candidate information for healthcare administration and HR roles.
There are a variety of ways ASCs can honor veterans to celebrate the November 11th Veteran's Day holiday, or throughout the year:
Create a 'wall of honor' in your center – a Veterans Wall of Honor provides a space to celebrate the people in your facility or community who have served or are currently serving in the military. This could include ASC staff, family members of staff, patients, or other notable community members.
Order wristbands for patients who are veterans to give them special recognition.
Donate to a veteran's charity of your choice.
Fly the American flag to show your support.
Check out CASA's Veterans Resources page for additional information on how to successfully recruit, hire and retain veterans!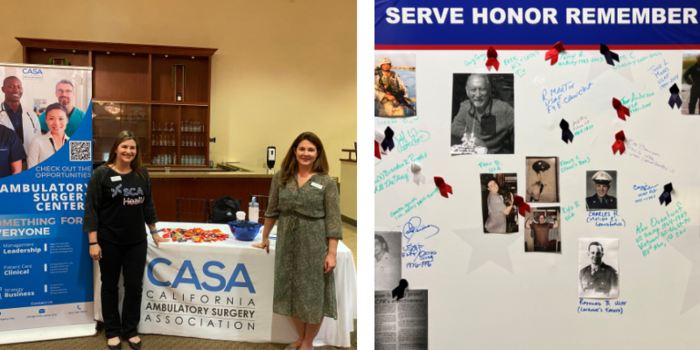 Stephanie McIntosh and Alisa Inahara at Career Fair Sample of ASC Honor Wall
CASA Veteran Spotlight
Kim Russell - Administrator, Capitol City Surgery Center
What was your role in the Military?
I was a Navy hospital corpsman and functioned in the roles of search-and-rescue (SAR) corpsman, ophthalmic clinic technician and O.R. technician.
Why did you choose the ASC industry?
It was a seamless transition from the military to the private sector. After discharge from the military, my first position outside the military was as an O.R. technician in a hospital-owned ASC.
What military experience is useful for ASCs?
Leadership skills, collaboration, controlling supply costs, and efficient materials management.
What was the coolest thing you ever did?
As an O.R. tech, I worked in a Naval training hospital with multiple residency programs, and I was able to assist in many unusual cases across many specialties.
---